…continued
Outdoor Eating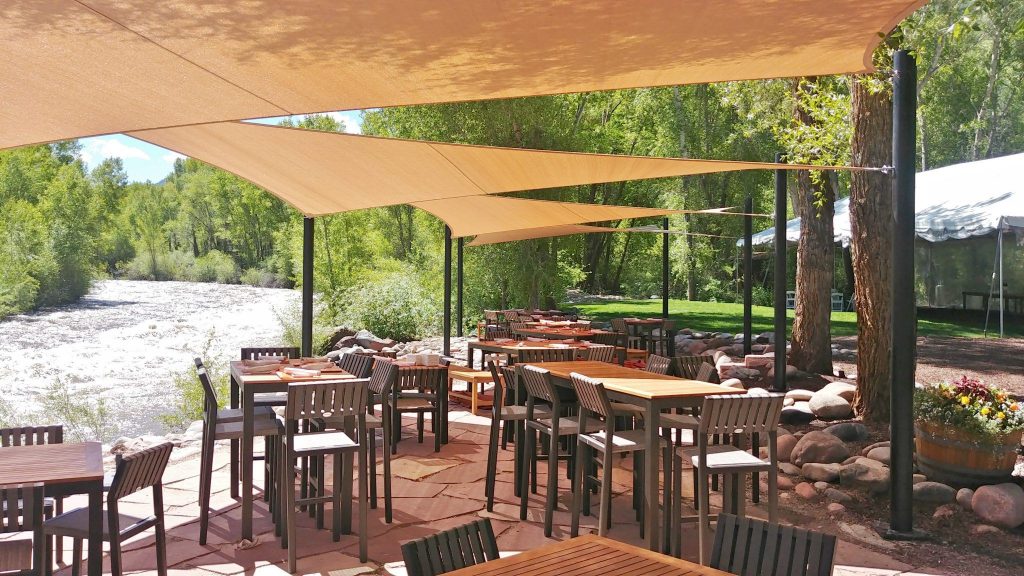 Providing an outdoor eating area on a nice summer day is an extremely popular option and one that is easily obtained via open-air structures. Most restaurants today provide an outdoor eating option for their clientele to enjoy and some of them even provide heaters or fire rings so that this feature can be enjoyed year-round. Some schools provide an outdoor place for a cafeteria so their students can eat their lunch while enjoying the fresh outdoor air. This allows the students to get some outdoor time away from the classrooms but also gives their indoor cafeteria a break from the ever-increasing number of students. Being outdoors has been proven to increase one's mood and outlook which is also a benefit that restaurants and schools can both appreciate from their customers and students.
Outdoor Fitness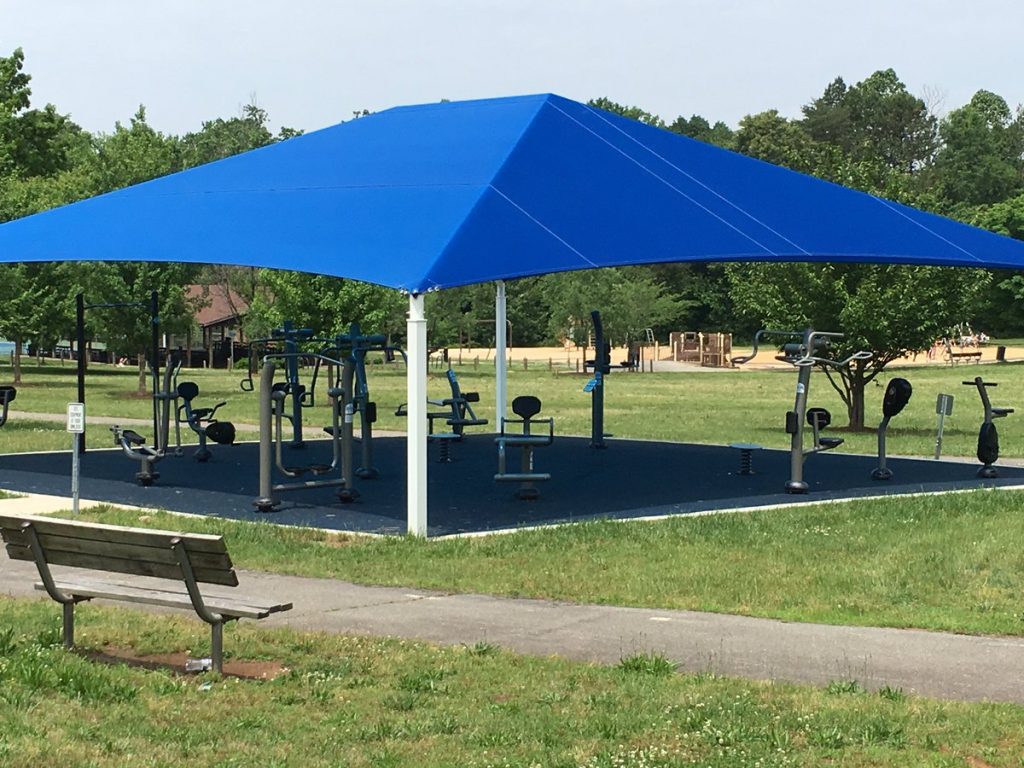 Research shows that compared with exercising indoors, exercising outdoors in a natural environment is associated with feelings of revitalization, positive engagement, decreased tension, decreased confusion, decreased anger, decreased depression, and increased energy. The research suggests these benefits are attained due to a number of factors such as enhanced stimuli, pleasing scenery, and just plain old fresh air! Providing shade for the outdoor fitness area helps participants to, not only stay cooler and more hydrated but also ensures they can work out even in poor weather conditions. Being outdoors causes us to produce more endorphins which in turn helps us feel more motivated and more vibrant. Providing a place to exercise outdoors can bring a community together with a common bond of being physically fit and mentally alert. This bond can be utilized to strengthen the local neighborhood pride and comradery which makes for a healthier and happier place to live.
Play Areas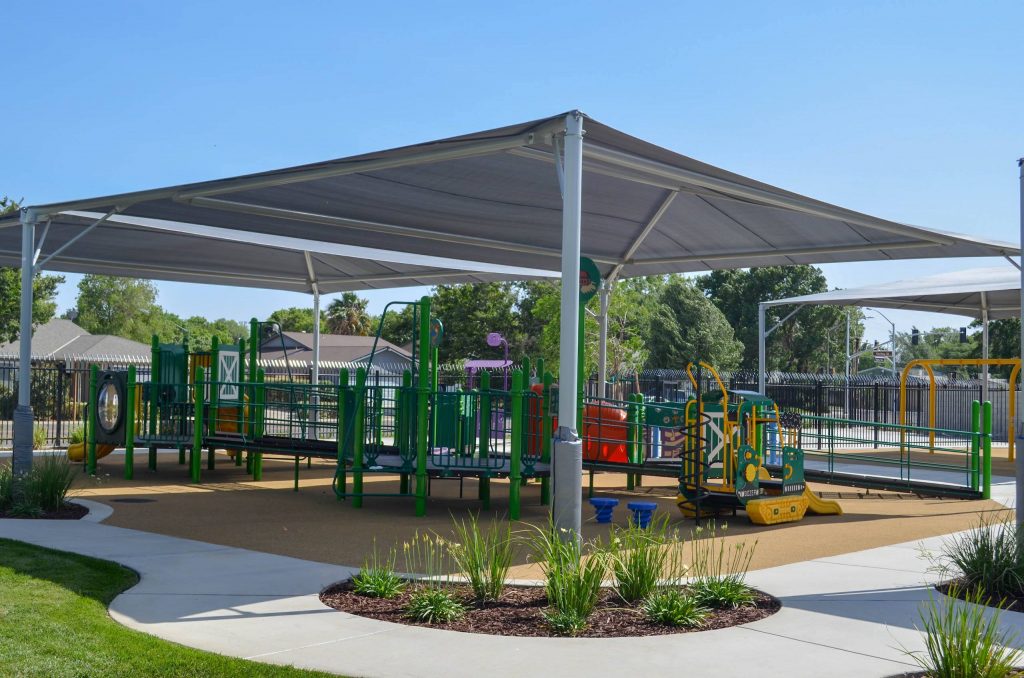 Play areas are very important for children because they provide a variety of energizing activities that can help the body stay strong, lean, and fit while being fun at the same time. Outdoor play areas help parents have a place to take their kids to "get them off the couch" and get them to engage in something other than their electronics! Children's play areas can include playgrounds, water pads, sandboxes, or sports fields. Research shows that children who play outdoors tend to sharpen their communication skills, problem-solving skills, creativity skills, self-confidence, social interaction skills, collaboration skills, length of focus skills, and overall academic performance along with a healthier immune system. Once a child is allowed to access a play area it can be difficult to persuade them to leave which is why providing the necessary shade from the sun and shelter from the elements is vital for their wellbeing. And with this added protection, they can stay outdoors and enjoy the fresh air while working on their cognitive skills longer. This also allows parents to spend needed time outdoors relaxing and enjoying quality time with their family.
Small Areas
It's nice to take a quick break and eat your lunch outdoors or take a special someone out for an intimate picnic get-a-way, or an even more romantic proposal or wedding site. Small shelters can provide the perfect setting for just such occasions and most parks and urban areas have just such a shelter, some even complete with a picnic table and a waiting trash receptacle for the leftovers. Anytime you can take advantage of the outdoors is of benefit and many urban planners are aware of the importance of offering opportunities for communities to be outside in the fresh air and sunshine. Unfortunately, too much sun can overshadow the benefits which is why having small shade structures available is important to enhancing the local appeal of an area to its community. With shade structures being customizable, they can literally fit into any space to enhance their usability.
Trellises
Trellises are a wonderful way to enjoy some shade while still having the experience of a more natural setting. And if you prefer more shade but not more structure, just add some vining plants around the trellis columns and let them create a lush, green canopy to relax under. Anytime you have an area that needs protection from the sun but requires a more natural feel to it, a trellis is a perfect choice. Any vining plant can be trained to grow and encompass a trellis which will, in turn, provide excellent shade for whoever sits, walks, plays, or eats below it. Trellises can be very customizable to fill any area or need. They create a total natural ambiance that enhances the overall experience of the outdoor location. This sense of naturalization will entice the community to take advantage of the area which will help promote the local businesses and venues.
Unique Ideas
Since customizable shade structures of any size and shape don't seem to be enough, Parasoleil has created panels that cause the shade to become art! These wonderfully sculptured patterns within the panels create artistic designs wherever their shade falls, enhancing the ambiance of any location. While still providing the needed shade from the sun and elements, this option enhances the area with an added artistic flare that can be customized to showcase a theme, historic event, location name, native flower, or local culture. These creative panels take customizable shade to a whole new level and this is a wonderful option to utilize if you are looking for an added artistic design to your area!
Possibilities
Open-air structures have come a long way from their original basic stick-built version. They can literally be any shape, size, color, and even material. Basically, if you can think it and draw it, it can be built. Today we see open-air structures as being beneficial to us while enabling us to take advantage of being outdoors. They can enhance the enticement, the usability, the security, the relaxation, the local flavor, the intimacy, the natural feel, the needed shade, and the needed protection from the elemental weather of a location. Their designs are as endless as their needs and they continue to be an area gathering point to meet, greet, and connect with one another; creating stronger, safer, and happier communities!
Open-Air…" for the benefits"!